Description
ADVANCED COMMUTER SCOOTER
Performance AND Portability for the Demanding Rider
ELEGANT & PORTABLE

With relatively slender design the Kaabo Mantis is a sleek high performance scooter that 'only' weighs in at 65 pounds, making it the lightest in its class. It folds down and is still portable in one hand, despite its strong performance. Only available in all black from fluidfreeride.
HIGH SPEED AND CLIMBING POWER

This 2000W electric scooter with dual brushless hub motors in combination with the 25A Kaabo SineWave controllers deliver a top speed of 40 mph and can climb steep hills with ease. Acceleration is smooth but punchy when desired, making the Mantis a ton of fun to ride.
STABLE FOLDING

In its third version, Kaabo has created a zero wobble folding mechanism that is super sturdy even when it gets a little rough.
EXCELLENT VALUE

The Mantis 10 with 18.2Ah Battery is available at an entry level price point into the world of hyper performance scooters. If 20+ miles real world range is enough for you, look no further! Choose the 24.5Ah LG/Samsung battery version for even more range!
SMOOTH & COMFORTABLE

The front and rear advanced swing arm spring suspension in combination with the 10" pneumatic tires delivers a smooth ride on rough city streets and trails. The high sitting handlebars and the rear foot rest allow for a comfortable and secure stance.
SAFETY FIRST

Now with a bright handlebar mounted headlight to light up the road ahead of you. The newly added horn and turn signals plus ample deck lighting make for optimal visibility and safe riding in traffic. Dual Zoom hydraulic disc brakes provide full control and stopping power during your ride.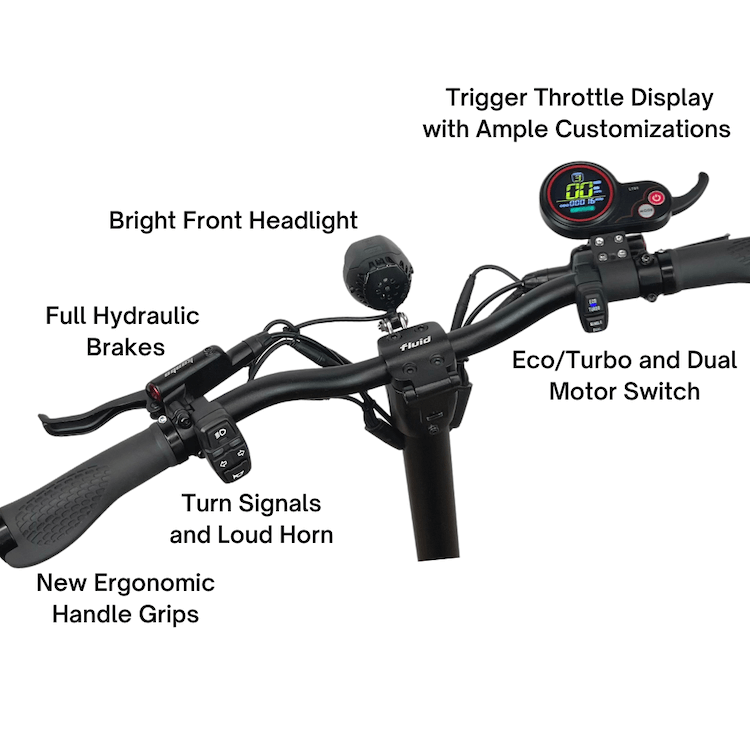 PERFORMANCE AT YOUR FINGERTIPS
Sleek Cockpit With Easy to Use Controls
Quick access button for ECO mode to extend your range and to toggle single/dual motor mode. Now with feedback light so you know which button is pressed.
Now with full hydraulic brakes for more direct stopping power and lower maintenance requirements.
Customizable riding settings in the advanced display allow you to customize initial acceleration or electric braking, as well as set up cruise control.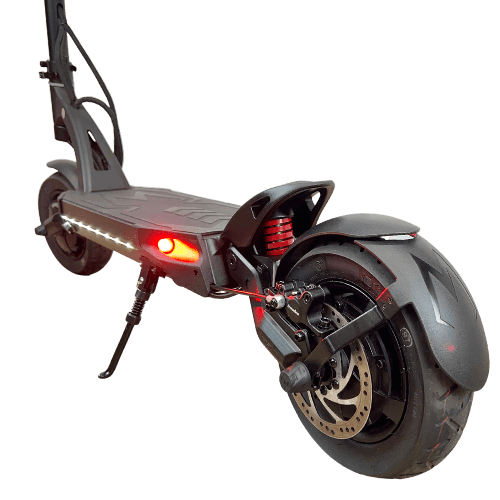 COMMUTER FAVORITE
For All Weather and Demanding Applications
With enough range and speed to eliminate public transport altogether, it is still foldable and versatile. So if need be you can take it on the bus or transport it in your trunk. Need to ride at night? Count on ample lighting and turn signals for safe riding in traffic. Want to ride in the rain? No problem, the Mantis V2 is now IPx5 certified and comes with a mud guard extender pre-installed so no water will spray up your back or run inside the deck. We still do not recommend riding in heavy rain as road conditions become dangerous.